Derby made wholesale changes for the second attempt against Grimsby – Vydra was
the only starter from Saturday's win over Bolton.
Mitchell – Baird Pearce Shackell Forsyth – Butterfield Bryson – Bennett Vydra Lawrence – Martin
The opening stages were even with neither side gaining control. Derby defended Grimsby's
attacks well enough but the midfield and wide players were ineffective, giving the ball away
too easily and too often. The scrappy play suited Grimsby, who worked very hard, much better
than Derby, who were too slow in attack. Butterfield and Bryson created little and didn't do
enough to stop Grimsby's attacks.
Bennett showed plenty of energy and started some promising moves but they came to nothing,
because the Rams' control and passing were poor in the final third. Lawrence's play was often
too elaborate when direct play might have been more rewarding. The Rams' back four were too
slow push up, which allowed Grimsby plenty of room to start quick raids, and Forsyth struggled
to deal with runs by Dembele, which sparked lots of Grimsby attacks. Derby were disjointed,
didn't move well and showed little quality against a poor League Two side. Forsyth, Bryson and
Martin missed with Derby's only shots in the first half.
HT Grimsby 0-0 Derby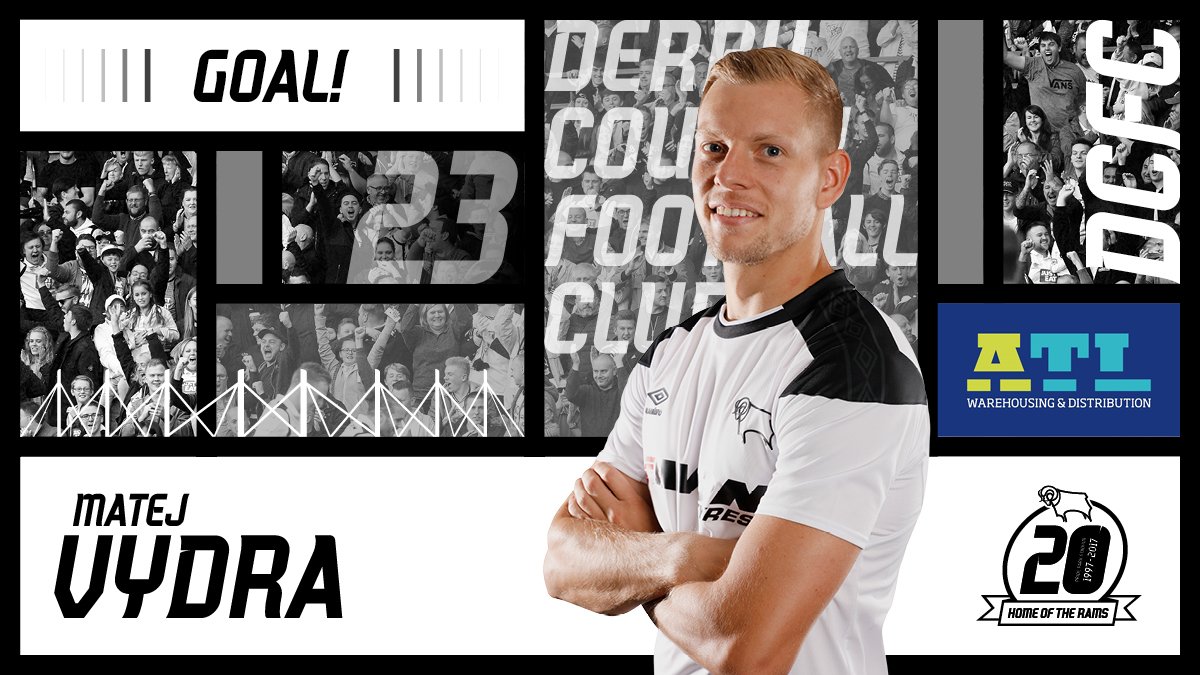 Derby started the second half with more urgency but continued to fail in the final third. Despite
moving quicker, Derby were still second best and Grimsby were more threatening for a while.
Vydra won a penalty cleverly when Forsyth found him with a good pass and he scored on 53
minutes. Moments later Martin narrowly missed with a free kick. An excellent move by Bryson
and Vydra gave Lawrence the chance to open his account but he missed the sitter.
Dembele didn't give up, making more good runs to test Derby, and Mitchell had to make another
fine save. Keeping up their record of a sending off per game, Grimsby lost ex-Ram, Ben Davies,
for a second yellow on 63 minutes. Anya replaced Vydra on 67 minutes; he played on the left,
and Lawrence moved to the centre behind Martin. The Rams started to move and pass the ball
quicker but they often lost the ball by over-complicating the play. Kellan Gordon, making his
senior debut, came on for Bennett on 75 minutes, and Timi Max Elsnik replaced Lawrence with
9 minutes to go. Grimsby had a final fling, attacking energetically, and Derby showed why they
often concede late goals by being too slow to clear their lines. Butterfield and Bryson made a
chance for Martin but he missed the target again.
FT Grimsby 0–1 Derby
This wasn't a convincing performance by Derby against a League Two side, who were reduced
to ten men after an hour. Scoring goals from open play remains a problem.