Derby made two changes to their last starting XI - Winnall and Martin replaced Vydra and Nugent,
as they did on Saturday. Leeds made three changes with Jansson replacing their injured captain
Cooper, and Dallas and Roofe in for Anita and the suspended Phillips.
Carson - Wisdom Keogh Davies Forsyth - Lawrence Huddlestone Ledley Johnson - Winnall Martin
subs: Mitchell Baird Pearce Thorne Weimann Vydra Thomas
The early play was mostly midfield probing with both sides giving the ball away too easily. Derby
were caught in possession too often and Leeds were quick to seize on this. Saiz robbed Huddlestone,
set up Lasogga for a shot and Carson had no chance - 1-0 to Leeds on 7 minutes. The Rams were
too slow and careless in passing, so their attacks kept breaking down. Curtis Davies made crucial
interceptions and blocks to thwart Leeds. Ledley and Johnson combined to create some promising
moves for Derby, and Keogh got forward to join the attack, but the final passes weren't accurate
enough or quick enough to stretch Leeds' defence. Too often the Rams chose possession and safe
little back or sideways pass rather than an attacking option. Leeds might have had a penalty but
the referee, perhaps influenced by an earlier simulation, rejected Leeds' claims. The Rams had
most of the possession (60%), mainly through the excellent Ledley, but they weren't good enough
take advantage of it. Compared with Leeds they lacked creative ideas, quick passes, movement,
pace, and above all quality.
HT Leeds 1-0 Derby
The second half began with more of the same. Derby sat too far back and didn't challenge for the
ball, allowing Leeds to play their own game comfortably. The Rams showed no spark to suggest
that they could threaten Leeds. Lasogga had a great chance to tap in for his second goal but he
put his shot wide. Johnson put in a great ball for Martin but he wasn't quick enough to reach it
Marin tested Lonergan after a good cross from Forsyth, Derby's first shot on target on 64 minutes.
In a unusual substitution, Weimann replaced Ledley on 68 minutes, and Johnson moved back into
midfield.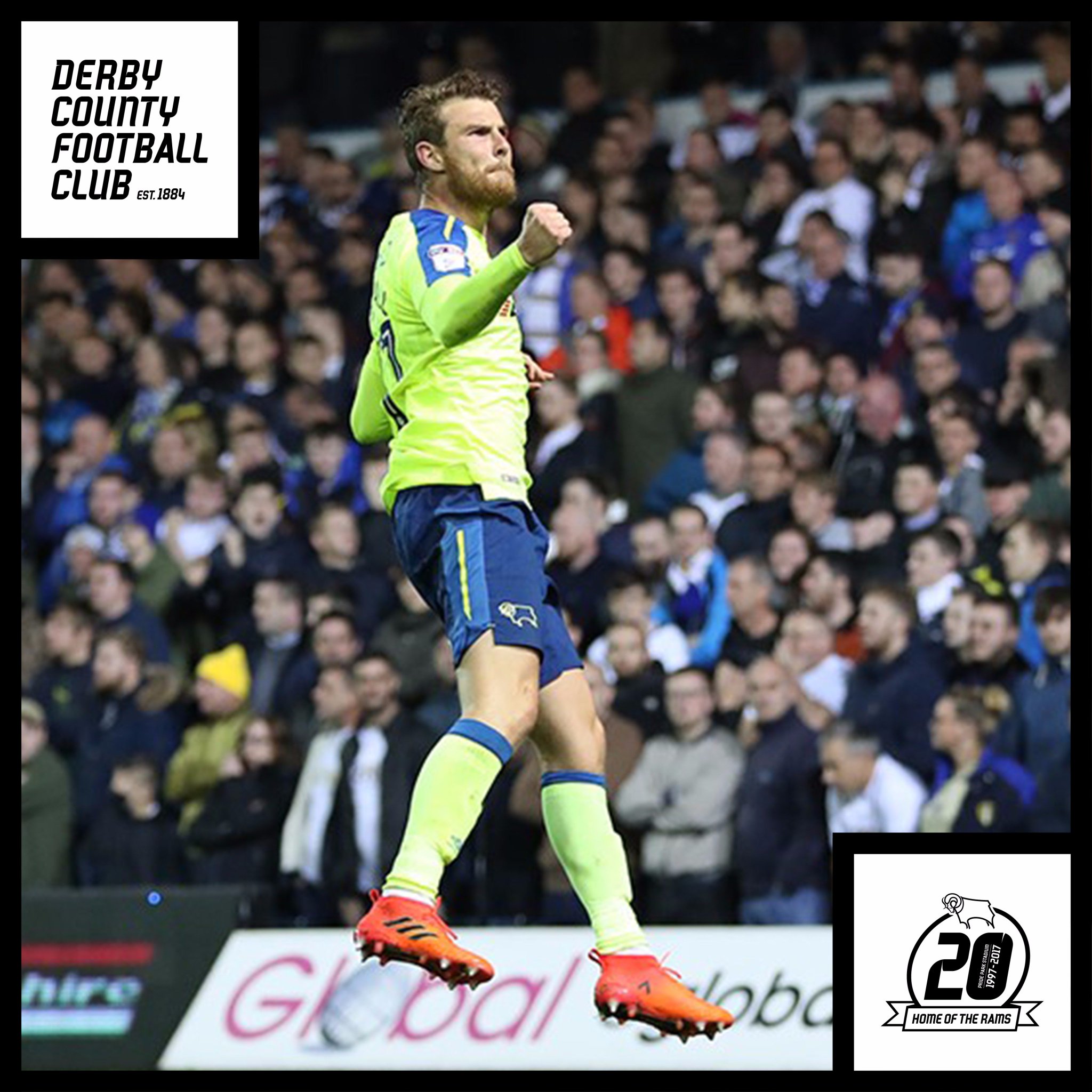 A rapid break by Forsyth and his quality pass put the ball on a plate for Winnall, who tapped in
on 72 minutes. A quick free kick by Lawrence and Weimann's speed almost forced an own goal
from a nervous Leeds' defence. Lawrence burst into the Leeds; box and won a penalty. Winnall
scored from the spot for Derby to take lead on 80 minutes. Leeds counter-attacked with energy
but the Rams' defence managed to keep them out. Thorne came on for Winnall on 88 minutes.
Lasogga had another good chance but his shot was just over the bar. Johnson was a tower of
strength both in midfield, and earlier on the left, which helped Derby play out time.
FT Leeds 1-2 Derby
Against the run of play for most of the game, when the Rams rarely looked dangerous, Derby
got their fourth win in a row. It was mostly ugly but the three points are invaluable. They moved
into 5th place, two points above Leeds. Three of the four teams above them (Wolves, Cardiff
and Bristol City) won, but Sheffield United lost at QPR.