For the visit to Craven Cottage (where Derby have not won a league game since 1969
when Brian Clough was in charge), the Rams made three changes to the team that lost
to Reading before the international break.
Carson
Baird
Keogh Davies Forsyth
Huddlestone
Ledley
Lawrence
Vydra
Johnson
Nugent
subs: Mitchell Pearce Hanson Russell Weimann Martin Winnall
Derby began by pressing the Fulham defence in their own half, making it hard for them
to pass their way forward, but the Rams were often as ponderous when building attacks,
so there were few chances and no shots at first. Carson had to make an excellent save
when a fine long pass by Norwood found Ayité in a gap between Keogh and Davies. From
that point Fulham did most of the attacking ad the the Rams' defence was kept busy.
Derby's rare attacks were mostly started by Keogh but their passes into the final third
were too inaccurate to stretch the Fulham back four.
Two free kicks led to a goal for Fulham on 30 minutes. The first found Nugent's hand as
the ball was bending round the wall, which led to the second. This free kick, ten yards
closer to goal, found a gaping hole in the Derby wall when the Fulham players moved
aside from the wall, giving Carson no chance.  Encouraged by their lead, Fulham went
on with their attacks, orchestrated by Norwood and Cairney, and they looked far more
dangerous than the Rams, who struggled to clear their lines. In the dying minutes of
the half, the Rams made a sustained attack but the Fulham defence managed to keep
them out, and Derby ended the half with one off-target shot.
HT Fulham 1-0 Derby
Derby started the second half on the attack but passes into the final third were still not
good enough to threaten the goal. Forsyth made a crucial tackle in the penalty area to
thwart a quick Fulham counter-attack. Much like his goal for Wales, Lawrence won the
ball in midfield and made a great individual run into the Fulham box to set up Vydra for
a tap in to level on 50 minutes. Derby pressed much higher and were rewarded by
winning far more of the ball in Fulham's half, leading to quicker build up of their attacks.
Vydra and Nugent combined well and came much more into the game because they
were not isolated as they had been in the first half.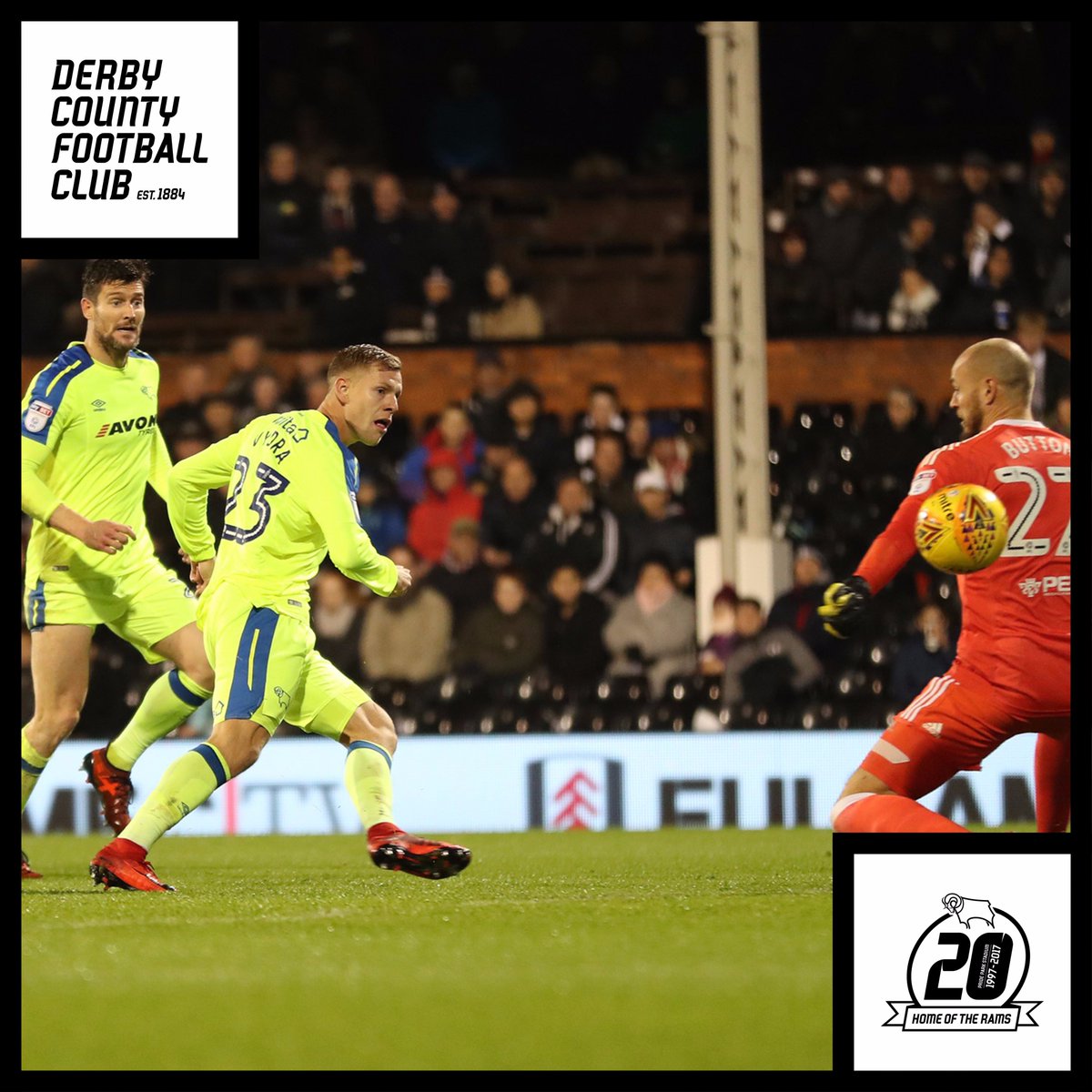 Fulham were limited to fast counter-attacks for a while but these were effective and
they might have retaken the lead when a header just cleared the bar and again when
Baird made a fine saving header. Lawrence tried another run into the Fulham box but
he was tackled before he could pass and Vydra broke away several times to create half
chances for himself. Weimann came on for Johnson and Martin for Vydra on 72 minutes.
Derby switched off in defence briefly and were lucky not to be punished when a good
Fulham pass crossed the area untouched by anyone. Fulham set up lots of promising
chances, mainly down the wings, but a mix of desperate defending and wild shots meant
that they did not score. Russell replaced Lawrence on for the last 10 minutes. The half
closed with more Fulham attacks and some good defending, notably by Baird. The Rams
had a last gasp chance to steal a win in extra time when Martin set up Nugent but the
keeper was too quick for him. A draw was a fair result.
FT Fulham 1-1 Derby
Derby needed a win to return to a playoff spot. The draw keeps them in 7th for now.