Derby stuck with the team that beat QPR on Tuesday -
Carson
Baird Keogh Davies Forsyth
Huddlestone Ledley
Weimann Vydra Lawrence
Nugent
subs:
Mitchell Wisdom Pearce Olsson Thorne Russell Martin
Boro, in a 4-3-2-1 formation like Derby, pressed the Rams hard from the whistle
and their midfielders began control the play. The home side won a succession of
corners but the Derby defence kept them out. Carson made a brilliant save at close
quarters from Assombalonga. The Rams' first attack saw Weimann and Lawrence
combine to feed Vydra who lashed the ball into the roof of the net, giving the
keeper no chance, on 13 minutes.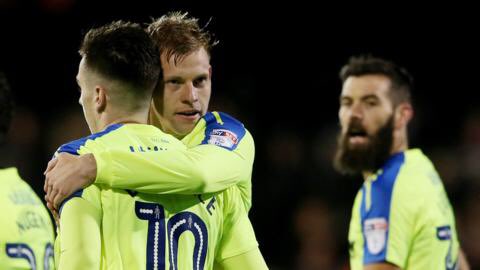 After taking the lead, Derby were much more confident and competed better for
possession. Boro won more corners but their shots were off target. A fine pass by
Huddlestone set Lawrence away to run at Christie but his shot was saved. Ledley
and Huddlestone did well in breaking up Boro's attacks, and Carson commanded
his area from high balls and corners. The home side were dominant for the last
20 minutes but their attacks failed through a mix of strong defending, poor shots
and some luck for Derby. The Rams' few attacks broke down with poor passes.
HT Middlesbrough 0-1 Derby
In the first minute of the second half, Vydra won a penalty and converted it. The
referee bottled sending off Ayala, who had already been booked when he scythed
down Vydra for the penalty, and he soon compounded that bad decision by booking
Huddlestone along with Fabio, who had fouled him. Almost immediately Ayala made
another stupid, mistimed, lunging tackle and at last the referee sent him off. With
Boro down to ten men, Derby had more chances and Randolph was kept busy. On
63 minutes Vydra seized on a weak back pass for his hat trick.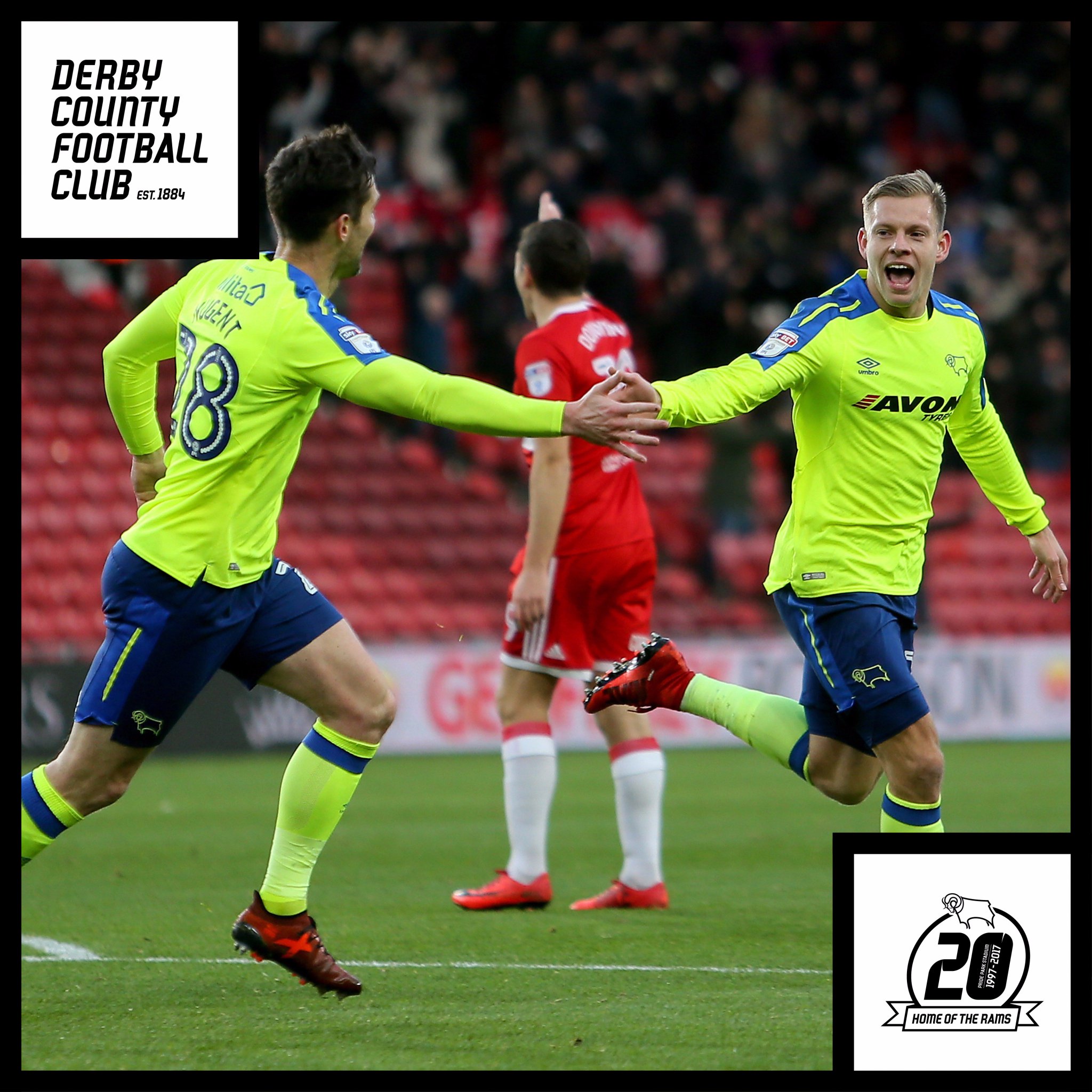 Martin and Thorne replaced Nugent and Vydra on 67 minutes. Boro continued to
win corners but Derby continued to defend well. The home side had plenty of
possession but it was mostly slow and aimed at keeping the score down, rather
than building attacks. The Rams eased up too. As in the first half, Huddlestone
and Ledley got further forward and started a few well-worked moves. Martin and
Thorne had chances but they didn't test the keeper. Russell replaced Ledley with
6 minutes to go. Former Derby loan player Bamford missed a good chance to grab
a goal. Randolph made a great save from Lawrence, who should have scored.
At the other end Traore shot wide with Boro's last chance. This was an assured
professional performance by the Rams.
FT Middlesbrough 0-3 Derby
Derby's first win at Middlesbrough since January 2000 (and their first clean sheet
since 1989) lifted them to 6th place, still with a game in hand.