Derby made two changes to the team that beat Burton last Saturday with
Forsyth and Huddlestone replacing Olsson and Thorne.
Carson
Baird Keogh Davies
Forsyth
Huddlestone
Ledley
Weimann Vydra Lawrence
Martin
subs
: Mitchell Wisdom Thorne Russell Johnson Nugent Winnall
Of the team who managed to lose after getting a two-goal lead in the EFL Cup,
Martin and Forsyth start, while Russell, Thorne and Lawrence are on the bench.
Only Bradshaw of Barnsley's three scorers that day starts but Hamill is a sub.
Barnsley made a very lively start and Derby struggled to contain their pace until
Lawrence beat his full back and crossed for Martin. Derby's hopeful long balls did
not trouble the home defence. The Rams stepped up their efforts after 15 minutes
and made their first good passing move. On 17 minutes the first shot of the game
by Vydra was deflected for the first corner of the game. It led to a good cross by
Baird, which Martin headed over the bar. Carson pushed a curling shot by Thiam
round the post for a corner.
From the half hour mark, the teams took turns to mount attacks but neither side
found quality passes to penetrate in the final third. Thiam was too quick for Keogh
but none of the Barnsley players could reach his cross. On 39 minutes, Weimann
made a fast run and delivered a great cross for Lawrence. Lawrence's shot was too
powerful for the keeper to save. Another good run and clinical pass by Weimann
set up Vydra to double the lead on 44 minutes. A late flurry of attacks by Barnsley
kept Derby's defence busy until the ball was finally cleared by Weimann.
HT Barnsley 0-2 Derby
Lawrence, who was injured by a tackle just before half time, was replaced by Russell
for the second half. A fine pass by Vydra gave Russell a good chance but he scuffed
his shot. Derby started slowly and their passing was sloppy like the start of the first
half. Thiam laid a ball off to Potts, who clipped the top of the bar with a fierce shot.
Barnsley were encouraged by this and they had more shots and corners, which Keogh,
Forsyth and Carson defended well. The Rams' few attacking efforts were mostly
scrappy and easy for the home defence to stop.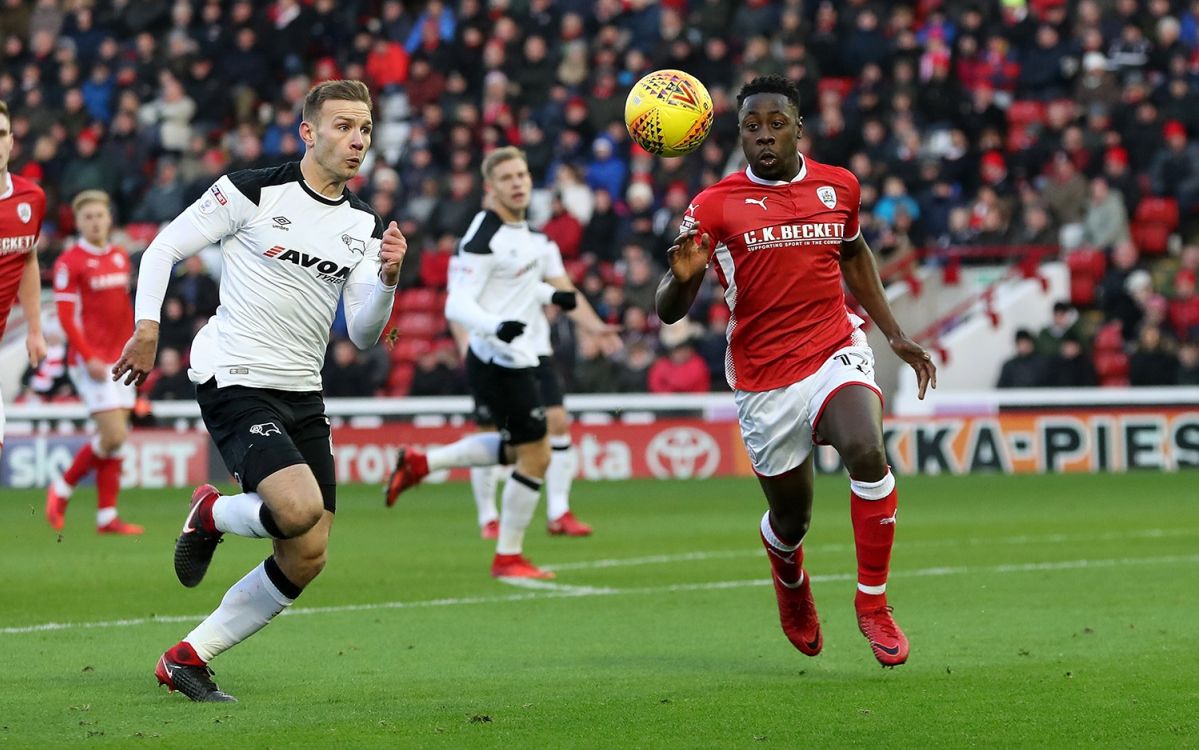 Forsyth had a splendid chance, but he missed. Johnson replaced Vydra on 72 minutes.
Carson had to make a brilliant save from five yards when Moncur burst through the
Derby defence. Johnson set up Weimann for his first goal of the season, a volley from
20 yards, on 78 minutes. A minute later Winnall replaced Martin and he headed over
the bar from a Baird cross. Barnsley tried hard to the end but they were poor.
FT Barnsley 0-3 Derby
The win lifts Derby to 4th place, overtaking Sheffield United (6th), who lost to Bristol
City (3rd) on Friday night, and Villa (5th) who were held to a draw by Millwall.
Wolves (1st) drew with ten-man Sunderland. Cardiff (2nd) play at Reading on Monday.