Derby made four changes to the side that started at Ipswich with Baird, Johnson,
Weimann and Nugent replacing Wisdom, Thorne, Lawrence and Winnall -
  Carson  
Baird
Keogh Davies Forsyth
  Huddlestone
Johnson
  Russell Vydra
Weimann
Nugent
subs
Mitchell Wisdom Pearce Thorne Bennett Martin Winnall
Sheffield United made two changes to the team that lost to Bolton with Baldock
and Donaldson replacing Sharp and Carter-Vickers.
Sheffield United started well in attack, soon getting behind the Derby defence, and
having the first shot and the first corner. The Rams responded by pushing up and a
Baird cross forced a corner, but they soon reverted to sitting back. The visitors were
dominant and Derby made it easy for them by being too predictable, too slow, and
allowing them too much space. Only Huddlestone, Vydra and Nugent showed much
energy in attack but they always seemed to be outnumbered. Baldock's handball on
24 minutes gave Vydra the chance to score his 15th goal with a fine penalty.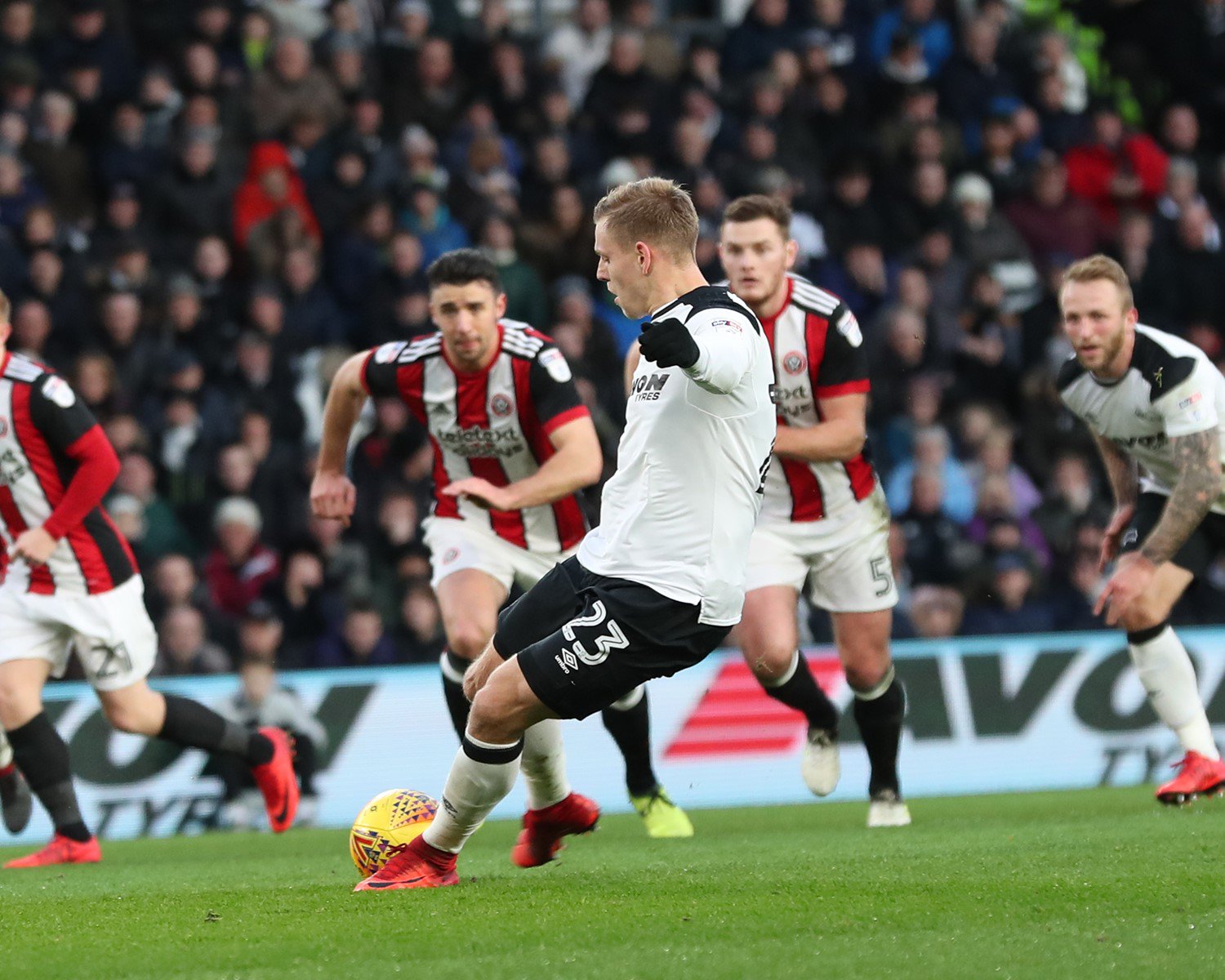 The goal lifted the Rams players and there was some better play, with passes finding
their targets and Nugent harrying the centre backs. At the other end, Donaldson's
fierce shot was matched by Carson's excellent save. Sheffield made some chances by
attacking down the right, winning lots of corners but failing to get another shot on target.
Weimann made a rapid break but his shot (or cross) was wide. Russell made a chance
but he was tackled before he could shoot. Sheffield's defenders coped pretty well with
most of Derby's attacks and the visitors continued to have more possession than Derby
for much of the first half.
HT Derby 1-0 Sheffield United
Like the first half, Sheffield attacked with energy from the start, winning three corners
in the opening minutes, and Derby struggled to get out of their own half except when
Huddlestone and Baird joined the attack. A neat Sheffield move put Derby under great
pressure but the shot was just wide with Carson unsighted. The visitors' goal finally came
from a terrific cross by Donaldson headed home by Clarke on 57 minutes with the Rams
defenders ball-watching. United were full of energy, they were quick to challenge and
they kept on winning the ball all over the pitch.
Winnall and Thorne replaced Johnson and Vydra on 70 minutes. Thorne soon offered
a bit more control in midfield for Derby but the Rams were still lacking ideas and any
attacking spark against Sheffield's back three. The Sheffield strikers were able to pin
the Rams centre backs deep, so Derby did not push forward as a team. Martin replaced
Nugent, who had worked hard but had little service, on 81 minutes. The Rams went on
sitting back, apparently unable to raise their game and hanging on for a draw. When
Winnall tried to attack, he had no support. Derby hadn't won on New Year's Day since
2013 and they did well to get a point with today's tired performance.
FT Derby 1-1 Sheffield United
Derby stay second for now, because Cardiff lost at QPR and they dropped to 4th behind
Bristol City (3rd), who visit Villa (8th) at tea-time. Leeds (5th) drew at home with Forest,
Sheffield United stay 6th, and Boro (7th) won at Preston (9th).