Derby started with a changed lineup to face Birmingham with Davies,
Forsyth and Vydra replacing Pearce, Olsson and Weimann --
&nbsp: Carson
&nbsp: Wisdom Keogh Davies Forsyth
&nbsp: Huddlestone Thorne
&nbsp: Russell Vydra Lawrence
&nbsp: Winnall
Birmingham were unchanged for the third game in a row.
Birmingham attacked strongly from the start, but Vydra and Lawrence countered, and
Huddlestone had the first shot from a loose ball but it was wide. Grounds penetrated
Derby's defence, but he hit the post with only Carson to beat, and Gallagher took too
long to shoot after beating Keogh. As so often the Rams defenders allowed themselves
to be pushed too deep and some of the Rams passing was sloppy. Keogh found Russell
in acres of space, he beat a defender, feigned to pass and scored on 19 minutes with a
cross (or deflected shot).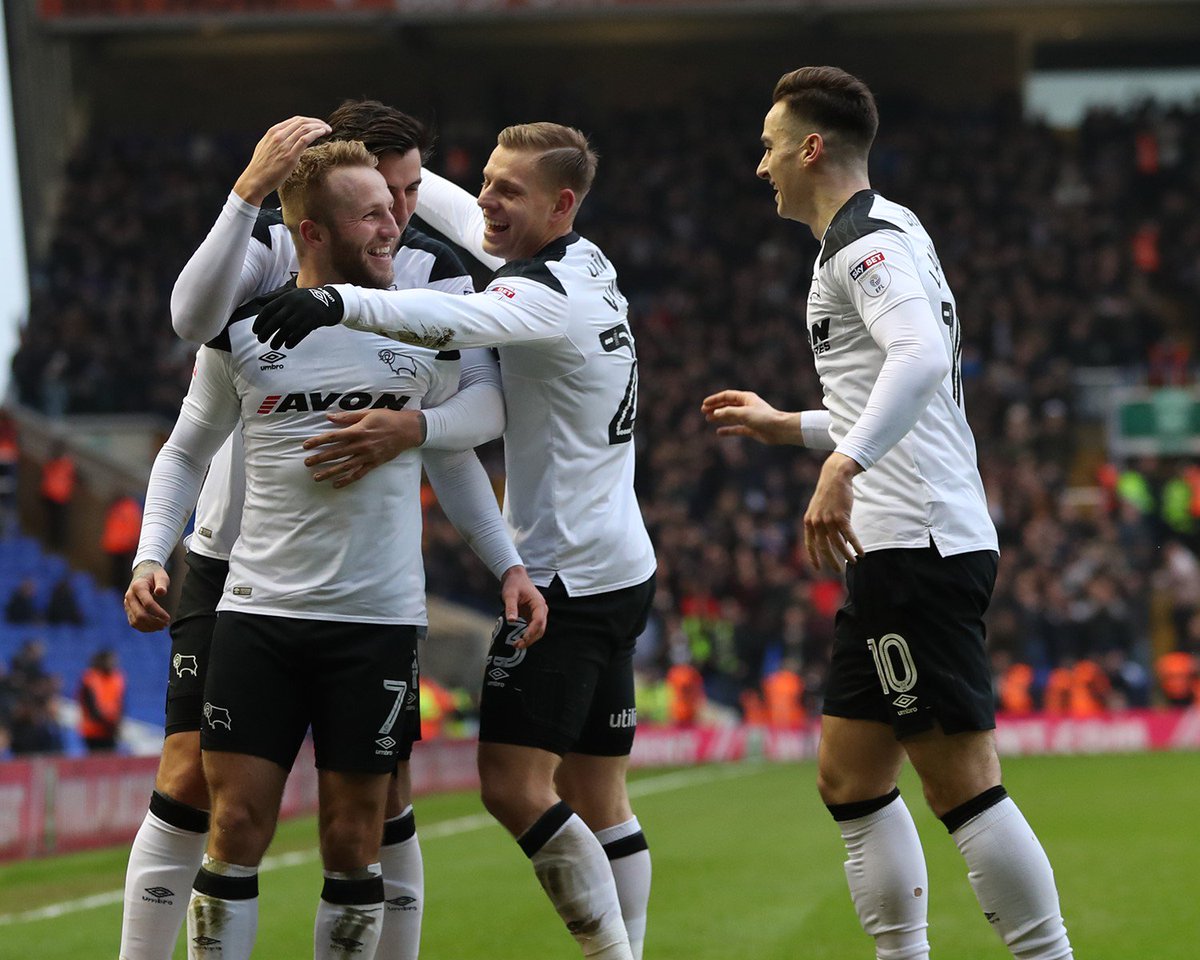 Birmingham counter-attacked with plenty of energy, but Davies was strong in defence,
and Carson made a splendid save. A fine Forsyth pass found Winnall who set up Russell
for a tap in, but he blasted the ball high into the stand. Davies headed on a Huddlestone
free kick to Vydra but his shot clipped the crossbar. Vydra made a chance for Lawrence
but his shot was saved easily by the Birmingham keeper. Wisdom, who had contributed a
lot in attack, back-tracked to make a crucial tackle on the speedy Boga. The half ended
with Derby having more possession and Birmingham becoming ragged and relying too
much on hopeful long balls.
HT Birmingham 0-1 Derby
The start of the second half was the opposite of the first with Derby more positive and
energetic than Birmingham. A skilful run by Lawrence ended with him lobbing the ball to
Vydra who tried an overhead kick. The threat of Vydra's pace won a free kick but Lawrence's
shot didn't stretch the keeper. The hard-working Vydra added a superb second goal, his 16th
of the season, when he gambled on a fine long ball from Lawrence and spanked his shot into
the roof of the net on 56 minutes. Russell had a shot which drew a great save from the
keeper and an excellent Winnall strike was deflected for a corner.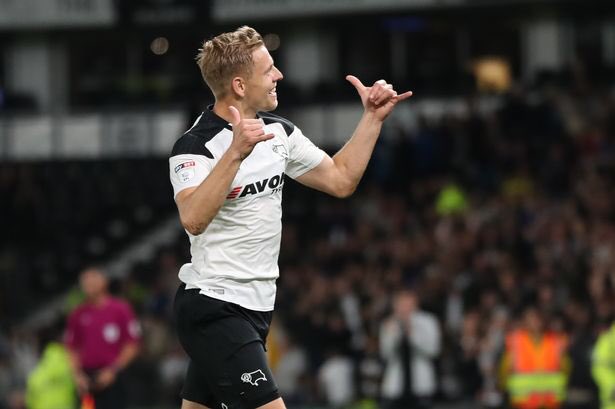 After that strong spell by Derby, Birmingham came into the game more, helped by Russell
and Winnall giving the ball away in dangerous areas. Winnall and was replaced by Nugent
on 69 minutes and Weimann replaced Lawrence on 78 minutes. Davies and Keogh defended
well but they had to concede several corners and Gallagher wasted a free header from one
of them. Vydra had taken a heavy knock earlier and he was limping badly when Martin
replaced him on 87 minutes. Huddlestone's left footed shot was well saved but Weimann
made no mistake with the tap in laid on for him by Nugent on 89 minutes.
FT Birmingham 0–3 Derby
The league leaders Wolves (62 points) played out a goalless draw at Barnsley. Derby's win
keeps them in second place with 52 points, two points ahead of third-placed Cardiff, who
beat Sunderland 4-0 at lunchtime. Bristol City (4th with 47 points) lost to Norwich at Ashton
Gate. Villa (5th with 44 points) play at Forest at tea-time. Sheffield United (6th), who drew
with Sheffield Wednesday on Friday,  and Leeds (7th), who lost at Ipswich, are on 43 points,
a point ahead of Fulham (8th), who moved up by winning at Boro (9th).