Derby fielded the starting eleven that drew with Brentford last Saturday -
&nbsp: Carson
&nbsp: Wisdom Keogh Davies Olsson
&nbsp: Huddlestone Thorne
&nbsp: Lawrence Vydra Anya
&nbsp: Jerome
&nbsp: subs: Roos Baird Ledley Johnson Palmer Weimann Nugent
As usual Derby were slow and negative from the start, sitting back and allowing Norwich
almost all the possession. The Rams had the first shot and corner though, when Jerome
laid the ball off to Lawrence, whose shot was deflected. This encouraged them to get
forward more quickly and Huddlestone had a shot blocked. At the other end Oliveira
forced a brilliant save from Carson, and Norwich continued to attack with energy and
purpose. A little against the run of play, Anya lashed a fine cross to Vydra, who pivoted
and buried his shot in the net on 12 minutes.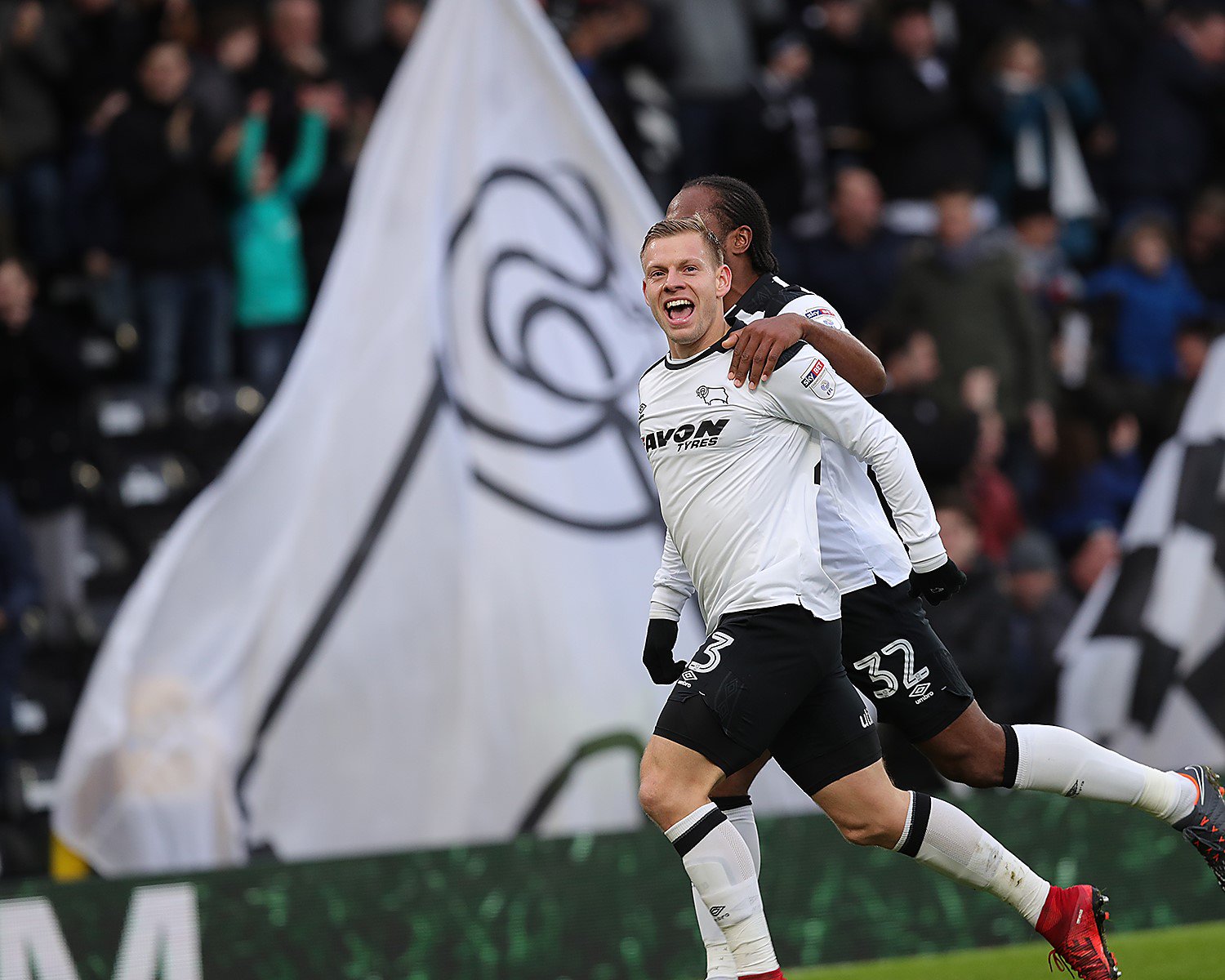 After the goal, Derby were sharper and exerted control through Huddlestone and Vydra.
Norwich counter-attacked, with Oliveira and Maddison prominent in the action. Vydra
netted again but Wisdom, who provided the cross, was offside. Maddison played the ball
past Carson, and he went down appealing for a penalty for a very slight contact. The ball
was cleared, but the assistant referee, who had not flagged for a penalty, was besieged
by Norwich players, changed his mind and advised the referee to award a penalty. Jerome
indicated to Carson that the penalty kick would go to his right and Carson duly saved
Oliveira's shot. Norwich had more action in the final minutes but the Rams kept them out.
HT Derby 1–0 Norwich
The play at the start of the second half was quite even, with both sides having promising
attacks. Derby did not retain the ball as well as Norwich, but the visitors' possession was
easily contained in front of Derby. Davies, assisted by Huddlestone, had a header saved,
and a fine corner by Lawrence found Davies, whose header was a little too high. Through-
out the game, Jerome made good runs but he rarely got any service from his team mates.
Derby were caught ball-watching and Oliveira drew another superb save from Carson.
The Rams desperately defended another Norwich attack, the ball found the net, but the
referee had already whistled for a penalty. Maddison scored it on 72 minutes.
Weimann and Palmer replaced Lawrence and Vydra on 73 minutes. Norwich continued to
attack confidently, moving rapidly and putting the Rams very much on the back foot.
Derby were unable to find quality passes or keep the ball for long. Norwich were getting
behind Derby far too easily and Carson had to make another good save. Jerome, assisted
by Weimann, missed with a shot and Huddlestone had a shot blocked, rare Rams chances
in the second half. Johnson replaced Thorne on 83 minutes. The disciplined performance
by Derby in the first half soon petered out in the second, and Norwich looked more likely
to win. They were well worth the draw.
FT Derby 1–1 Norwich
League leaders Wolves (71) increased their advantage over Derby (58). Villa (56), who
play Brum on Sunday, will overtake Derby if they win. Queueing up behind them are
Cardiff (55, with a game in hand), and Fulham (52) and Bristol City (52), who both drew.