Derby made two  enforced changes to the team that drew with Leeds, with Palmer and Jerome
starting instead of Vydra and Nugent. Vydra has been ill and Nugent, who is on the bench, has
muscle problems.
Carson
Baird Keogh Davies Olsson
Huddlestone Ledley
Weimann Palmer Lawrence
Jerome
subs - Roos Wisdom Pearce Thorne Johnson Anya Nugent
Reading were on the front foot from the start but a good block by Davies and a Carson save
denied them. Derby helped them by passing carelessly and standing off. The Rams' first attack
on 6 minutes saw a good build up by Lawrence and Weimann, which led to Palmer smashing
home his second goal for Derby on his first start.  Reading counter-attacked quickly  and were
soon in complete control, with the Rams having very little possession. Derby stopped to argue
about a throw-in on 16 minutes, and Kelly scored with a 30-yard shot, giving Carson no chance.
It became all too easy for Reading. The home side were not playing well (their defence was very
poor), but Derby made so little effort, were so slow and showed so little quality, that another
Reading goal seemed inevitable. It came on 32 minutes when Barrow beat Keogh and Baird to
give the the lead. Three minutes later, against the run of play, Keogh scored with a free shot
from a headed pass by Davies. In the Derby box, Davies had to save the Rams again in the next
Reading attack. A Lawrence free kick tested the Reading keeper and a Lawrence corner gave
Jerome a chance. Reading were the better side for most of the half, mainly because Derby were
so poor, especially in defence.
Reading 2–2 Derby
Derby started the second half on the attack through Lawrence and their second attack allowed
Lawrence to cut inside and score a fine individual goal after one minute of play. Shots by Barrow
and Bödvarsson were saved brilliantly by Carson. Unlike the first half, all the Rams pressed harder
and forced Reading back, not letting them play their passing game. The Reading keeper made a
great save from Jerome's fierce shot and another fine Lawrence corner should have been converted.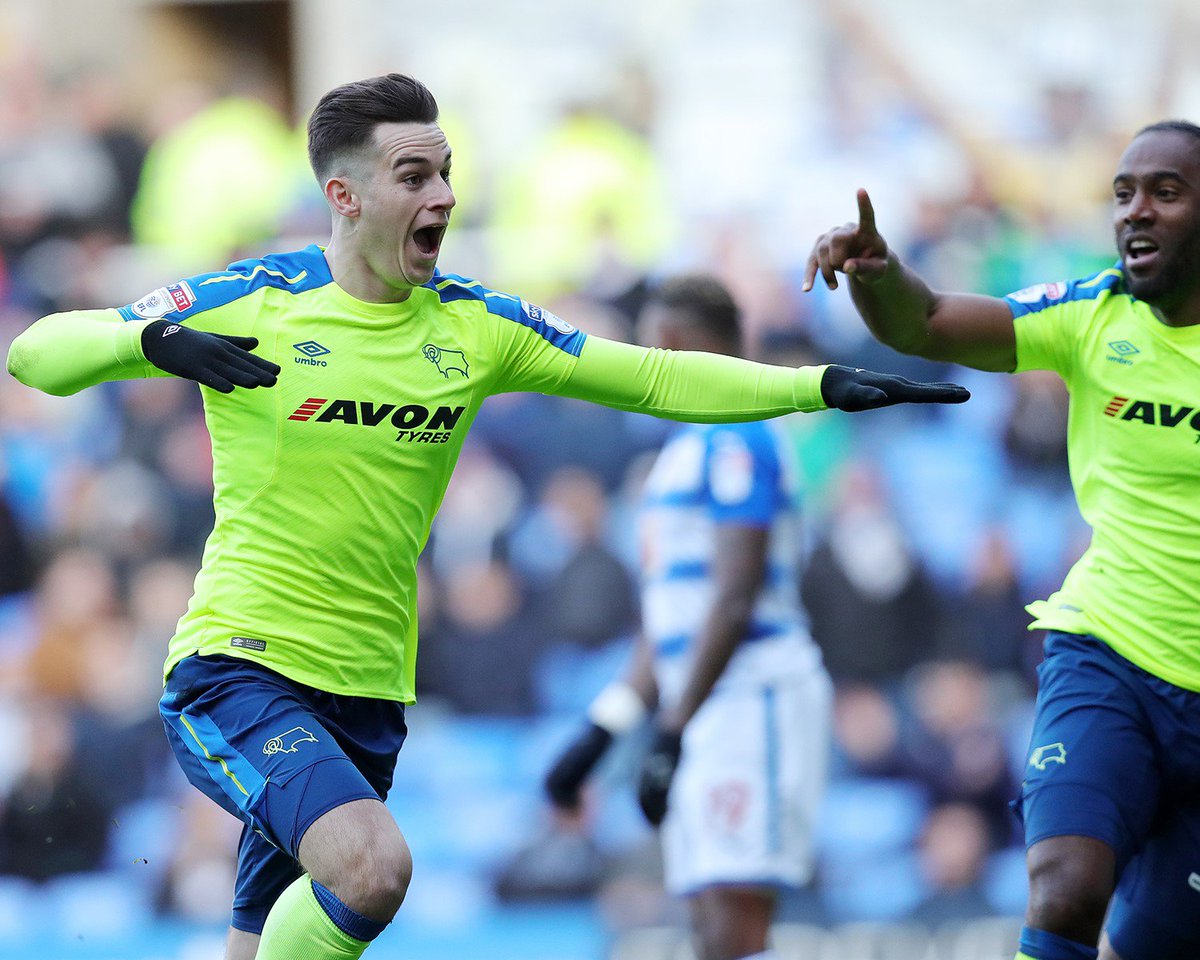 More sloppy defending by Derby allowed a good Reading attack to develop but Bödvarsson missed
a sitter. Derby began to run out of steam after 70 minutes and Reading came more and more into
the game. Johnson replaced Palmer in the number 10 role on 78 minutes. Barrow robbed Baird and
made a chance for  Bödvarsson. Carson saved the first shot but couldn't save the second shot from
the rebound, and on 80 minutes Reading were level again. The Rams had chances in the Reading
box but couldn't score. Baird was sent off for a high two-footed lunge on Barrow on 85 minutes. The
Derby players surrounded the referee and Carson received a yellow card. Wisdom came on for
Lawrence on 88 minutes. Derby reverted to backing off and giving the ball away, which encouraged
more Reading attacks. This was another game that Derby could have won easily but bottled their
chance and settled for another disappointing draw. The Rams defence, with the exception of Davies
and Carson, was poor again,
FT Reading 3–3 Derby
League leader Wolves (73 points) play Fulham (5th, 56) at tea time. Cardiff (2nd, 64) play Bristol
City (6th, 54) on Sunday. Villa (3rd, 63) rescued 3 points after being 0-2 down at Hillsborough.
Derby (60) stay 4th but may not do so for long unless they start to win games.
Update-
Fulham beat Wolves 2-0 and are just 1 point behind Derby, so our next match (against
Fulham) looks crucial for our players' confidence. If we lose badly, the wobble could become a dramatic
slide down the table as in 2014-15, where we got 12 points from our last 13 games.
Last edited by RRC on Sat 24 Feb 2018, 7:40 pm; edited 1 time in total