With Huddlestone suspended and some injured players returning, Derby made a number of changes –
Carson
Baird Keogh Davies Forsyth
Thorne Johnson
Weimann Vydra Lawrence
Jerome
subs – Roos Wisdom Pearce Ledley Palmer Nugent Thomas
Derby almost presented Sunderland with a goal in the second minute but Carson was alert to the danger.
At the other end Weimann robbed an opponent, made a half chance for Jerome and then won a corner.
Derby soon got on top but inaccurate, over-hit or telegraphed passes and poor control meant that they
made no clear cut chances. A fine cross from the Sunderland right brought out the best in Carson but he
was left stranded when Forsyth headed a Sunderland shot into the top corner of the net on 10 minutes.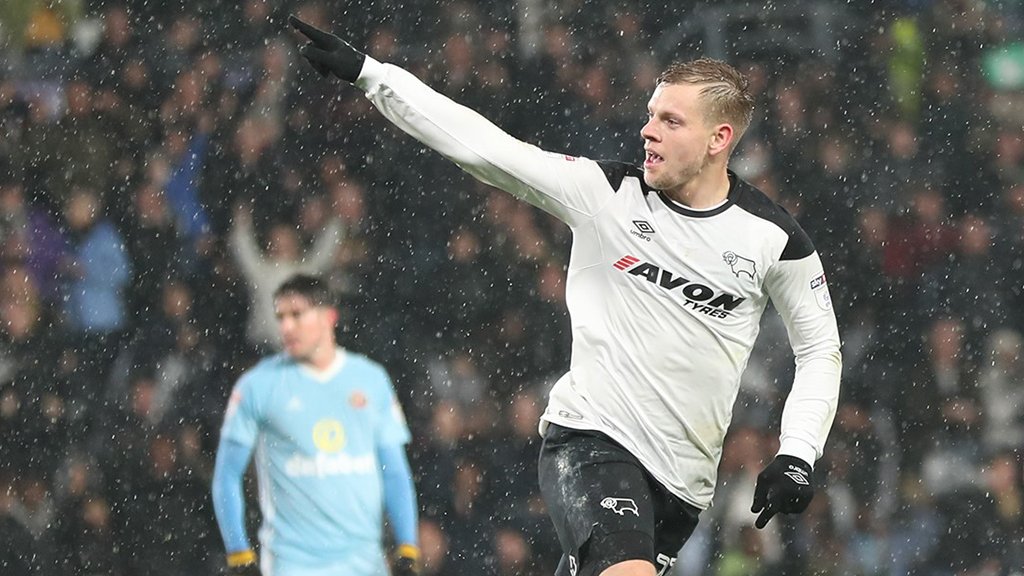 Keogh had a chance from a Lawrence through ball to level the scores but his header missed and he had
strayed offside anyway. The Rams were able to get behind the visitors' defence several times, but their
final passes were too poor to take advantage, and they offered less threat than Sunderland's occasional
counter-attacks. Too often Derby resorted to hopeful long balls, which posed no danger to Sunderland,
and Johnson and Thorne rarely created anything for the forwards. On 36 minutes there was a typical
Keogh error. Apparently not seeing Fletcher standing alongside him, the Rams captain passed the ball to
him, creating an excellent opening to double Sunderland's lead, which Fletcher accepted gleefully.
Weimann rose above his opponent to head the ball into space in the Sunderland box. Vydra, who had
worked tirelessly to no avail throughout the half, was quick to seize on it and lashed his volley into the
net on 42 minutes. In extra time Derby had a let off when Fletcher shanked a sitter wide.
HT Derby 1-2 Sunderland
Palmer replaced Lawrence, who had made no impact in the first half, at the start of the second. The
second half started as badly as the first for Derby. Forsyth conceded a penalty on 49 minutes for
McGeady to restore Sunderland's two-goal advantage. Sunderland's confidence was boosted, their
attacks looked more likely to produce goals than most of Derby's and their defence was good enough
to blunt Derby's efforts. Nugent replaced Thorne on 57 minutes. Fletcher had another chance
unchallenged and hit the post and a Sunderland header from a corner hit the bar. Vydra had an
excellent opportunity to score from a lovely Jerome cross but he blasted the ball over the bar.
After that the visitors were on top and Derby couldn't get out of their own half with the usual result
for Derby. A goal mouth scramble where the Rams failed to clear the ball gave O'Shea the chance to
score his first goal for four years and put the result beyond doubt on 76 minutes. Ledley came on for
Jerome on 83 minutes and Palmer moved forward. It was too little and too late to make a difference
and stave off Derby's equal worst defeat of the season. It helped to lift Sunderland from the foot of
the table. Sunderland (14, 6) had twice as many shots, six times as many on target, as Derby (7, 1).
Derby 1–4 Sunderland
The championship's top three, Wolves (85), Cardiff (79) and Fulham (72), all won. Villa (69, 4th)
play on Saturday. Derby (62) stay 5th on goal difference ahead of Middlesbrough, who lost to Wolves.
The chasing pack had mixed fortunes. Bristol (62, 7th) drew, Millwall (61, 8th) won, Sheffield U (61, 9th)
drew, and Preston (60, 10th) lost.