Derby named the same team and bench for the third game in a row –
Carson
Wisdom Pearce Davies Baird
Huddlestone Ledley
Weimann Vydra Lawrence
Nugent
subs – Roos Keogh Forsyth Hanson Palmer Jerome Thomas
Burton only had 17 players fit to play, including one youngster from the academy. They named four
former Rams. Bywater, Brayford and Buxton were in the team and Barker was on the bench.
Derby made a lively start, keeping a high line and penning Burton in their own half, but their passing
and control weren't good enough for an early breakthrough.  The Brewers made a few quick counter-
attacks and had the first shot of the match on 8 minutes. The home team kept their shape well, also
keeping a high line, and Nugent was caught offside several times. Derby soon went back to slow,
negative passing, which was no threat to Burton. They paid the penalty for some sloppy defending
when Boyce, assisted by Murphy, scored on 24 minutes. Derby soon replied when the Burton defence
went to sleep. Nugent headed his first goal since December from a Lawrence cross on 29 minutes.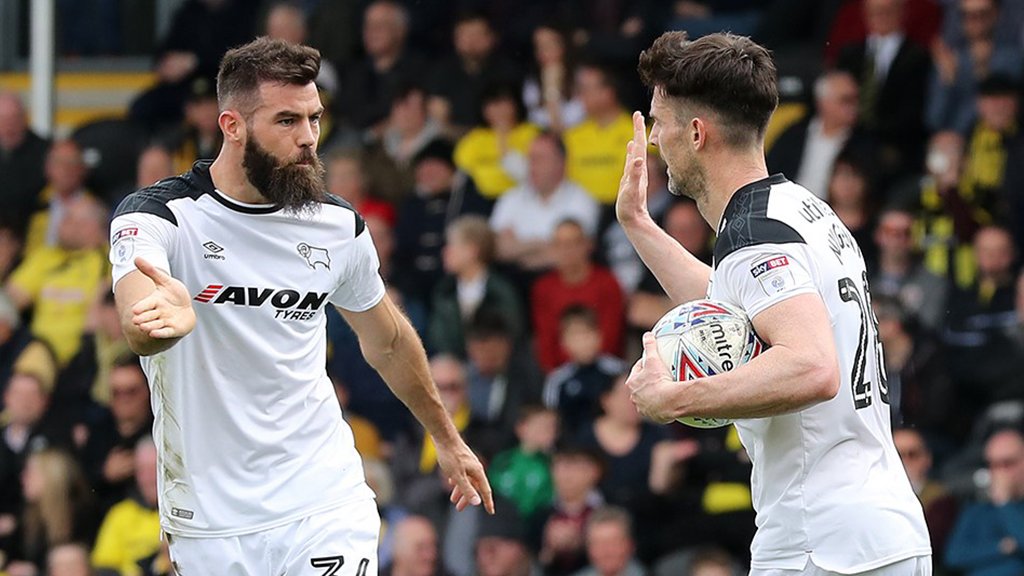 Burton had a narrow miss when Davenport put in a great cross and Huddlestone should have scored
from a Baird corner. Derby were still not working hard enough, backing off and allowing Burton plenty
space when they were in possession. Carson saved at full stretch from Sbarra but he had no chance
when the ragged Rams defence decided not to bother tackling. Murphy won the ball in midfield and
finished the Albion attack with a goal on 44 minutes. It was the first time that Burton had scored two
goals in a first half this season. The Rams made it far too easy for them with another embarrassing
performance that was timid, negative, slow and workshy.
HT Burton 2–1 Derby
The second half continued like the first. Derby's passes were often telegraphed and easily intercepted.
They were given some help by Burton, who were keener to defend their lead than add to it, but the
Rams didn't do enough to create any chances and take advantage. Derby's first substitution saw
Palmer replace Ledley on 57 minutes and join Huddlestone in the two-man midfield. Having survived
15 minutes of the half without conceding, Burton resumed attacking. Their enterprise was rewarded
when a shot was blocked and Akins tapped in the rebound on 68 minutes. Jerome came on for Pearce
on 73 minutes, leaving a three-man defence.
Derby responded with a bit more effort but Nugent missed a sitter with his left foot, blazing the ball
yards over the bar. They tried too many hopeful high balls which were no threat to the Burton defence.
The Rams forwards rarely moved to take up good positions or offer themselves for a pass. Derby had
a few better passages of play but, as so often this season, they lacked intelligent attacking ideas. The
referee awarded a very soft penalty when Buxton tackled Jerome. Justice was restored when Bywater
saved Vydra's weak effort. Shaun Barker came on in extra time for what may be his final appearance.
Burton's fine effort moved them off the bottom of the table and gave them a slim chance of avoiding
relegation. Derby's lack of quality, commitment and effort gave them what they deserved -– another
humiliating defeat.
FT Burton 3–1 Derby
Derby dropped to 7th place with 68 points. They were overtaken by Middlesbrough (5th, 69) and
Millwall (6th, 69). Preston (8th, 66), Sheffield Utd (9th, 66), Brentford (10th, 65) and Bristol (11th, 65)
are all close enough to push Derby further down the table.
Fulham's draw with Millwall means that Wolves are assured of promotion. Cardiff, who moved back to
2nd place by one point from Fulham, can still become champions because they have a game in hand.
Last edited by RRC on Sat 14 Apr 2018, 8:31 pm; edited 4 times in total