Derby made one change to their last starting eleven with Olsson at left midfield instead of Forsyth,
who moved the left back instead of Pearce (bench).
Carson
Keogh Davies (c) Forsyth
Wisdom Huddlestone Johnson Olsson
Weimann Lawrence
Jerome
subs – Roos Pearce Hanson Ledley Palmer Vydra Nugent
Barnsley named the team that finished the match in their 2-0 win over Brentford.
The match started quietly with Barnsley sitting back to stifle Derby. Olsson had the game's first shot,
after a layoff by Weimann, forcing a great save by the keeper. A good counter-attack by the visitors was
an early warning for the Rams. A Weimann shot was blocked for Derby's second corner, which came to
nothing like the first. Lawrence was booked for a two-footed challenge. On 14 minutes Johnson won the
ball, his fine  pass set Jerome free and Jerome's great finish from a difficult angle gave Derby the lead.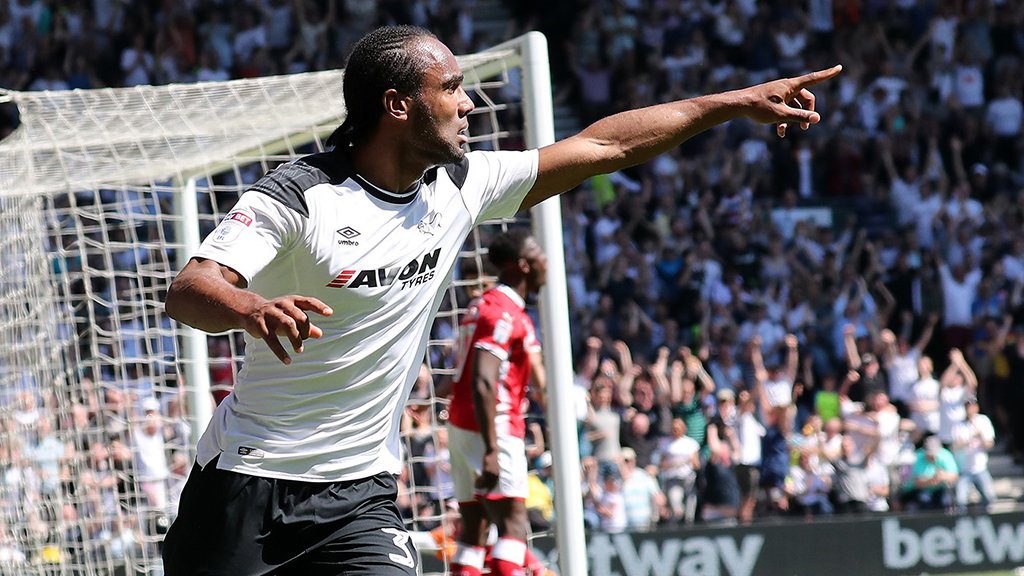 The goal meant that Barnsley had to attack more, which they did with energy, and the Rams had to
defend for a spell and they might have been lucky in that the referee ignored Barnsley's claims for a
penalty. This gave the Rams more space for their attacks and Wisdom made a chance for Keogh,
whose shot rattled the crossbar. Jerome netted the rebound but it was ruled out for handball. Olsson
was carried off with a knee injury on 38 minutes to be replaced by Vydra and the Rams reverted to
their 4-2-3-1 formation. Derby had plenty more attacks, mainly led by Lawrence and Weimann, but
their final passes seldom opened up the packed Barnsley defence. The positive performance gave
the Rams a good foundation to secure their place in the playoffs.
HT Derby 1-0 Barnsley
Barnsley were down to ten men briefly when McBurnie, who had looked ill from the start of the match,
had to leave the field. Quiet build up play gave Johnson a chance to take a shot, which the keeper
pushed wide for a corner. Barnsley were limited to rare counter attacks. Johnson rode several tackles
to set up another chance for Jerome but his shot was just wide. Jerome made a fine run and his
precision pass gave Vydra the opening to score his 22nd goal on 55 minutes.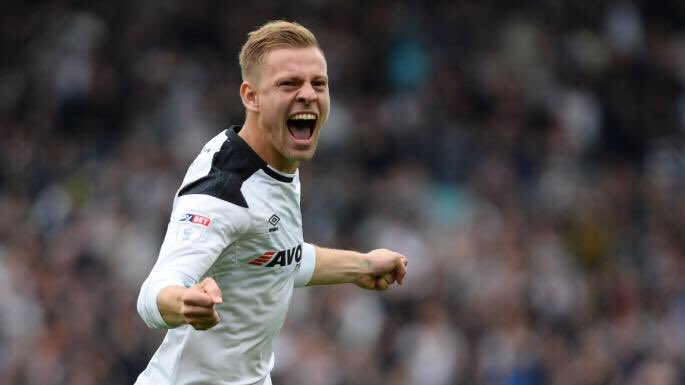 Jerome was replaced by Nugent on 66 minutes. Two minutes later Weimann and Vydra made a chance for
Nugent, who scored with his second touch of the game. A quick free kick by Huddlestone to Nugent, and
his pass, hooked over his shoulder, found Lawrence, who scored Derby's fourth goal on 71 minutes. Vydra
had another chance but he missed with his header. Derby switched off, their play became sloppy again, and
Moncur scored a very good goal giving Carson no chance. In trying to play out time the Rams lost most of
their momentum in attack. Ledley replaced Lawrence on 87 minutes. This pleasing performance gives the
Rams some real hope for the playoffs.
FT Derby 4-1 Barnsley
Today's results meant that Derby stay 6th and will play off against Fulham, who lost at Birmingham. A late
goal by Bamford kept Middlesbrough in 5th place with a draw at Ipswich and they will play off with Aston
Villa, who lost at Millwall. Cardiff got automatic promotion with a draw against Reading. At the other end of
the table, Burton's loss by a late goal to Preston meant that they were relegated along with Barnsley.
Matej Vydra won the Championship's Golden Boot.