Derby made one change to their starting eleven against Barnsley with Vydra instead of the injured
Olsson. They kept faith with their 3-4-2-1 formation and Anya was added to the subs.
Carson
Keogh Davies (c) Forsyth
Wisdom Huddlestone Johnson Weimann
Lawrence Vydra
Jerome
subs – Roos Pearce Hanson Ledley Anya Palmer Nugent
Fulham named the team that finished the match in their 1-3 loss at Birmingham.
Fulham attacked from the start and Derby had to press hard to avoid being overrun. Mitrovic was
easily able to shield the ball from Keogh and Sessegnon had the first shot, which was well off target.
Derby's first attack looked promising with a fine long pass by Vydra drawing the keeper out of
position but Jerome was wrongly given offside. Their second attack was almost a replica of the first
and won them a corner. Although Fulham had the lion's share of possession, it was mainly in midfield
and the Rams' attacks were more threatening. Davies covered well to rob Fredericks, Fulham's right
wing, with several timely tackles. After 25 minutes, Fulham were able to carve out a few chances.
Carson saved one and Ayite missed with a header.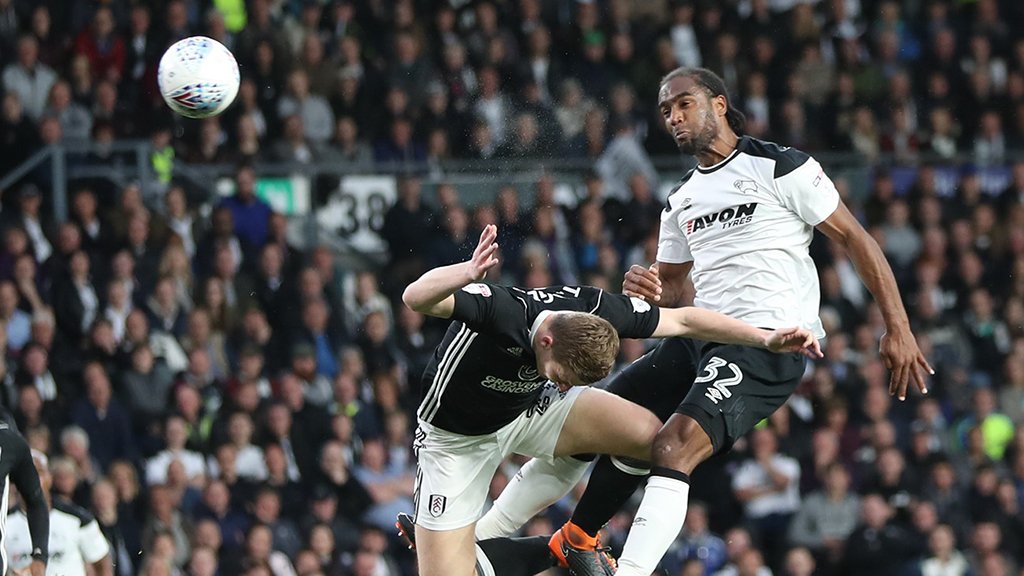 Derby continued to make quick counter-attacks through Wisdom and Lawrence but Lawrence's final
balls weren't quite accurate enough. Davies was strong enough to prevent Mitrovic from acting as
Fulham's provider. A superb Derby move started by a long Huddlestone pass saw Weimann, Vydra
and Forsyth combine to find Jerome in the area. Jerome rose high above his marker and scored with
a powerful header on 34 minutes. Carson had to make a good save from Fulham's best chance of
the half, a drive by Mitrovic. The Derby players looked fitter, sharper and more disciplined and
confident, with lots of pinpoint passes, in this half than at any time during the regular season.
HT Derby 1–0 Fulham
The Fulham defence looked nervous and some careless passing nearly gave chances to Derby in the
opening minutes of the second half. After that Fulham resumed their attacking. Sessegnon made a
good shooting chance for himself but his strike was as far off target as his first half effort. McDonald,
assisted by Mitrovic, rattled the bar, and Ayite had a narrow miss over the bar. Derby played on the
counter-attack with rapid forward runs by Lawrence and Jerome but the final balls weren't quite
accurate enough. The Rams just about coped with wave after wave of Fulham attacks and Carson
made a fine save from a powerful Cairney shot. Derby made a double change with Nugent and Anya
replacing Jerome and Vydra on 68 minutes.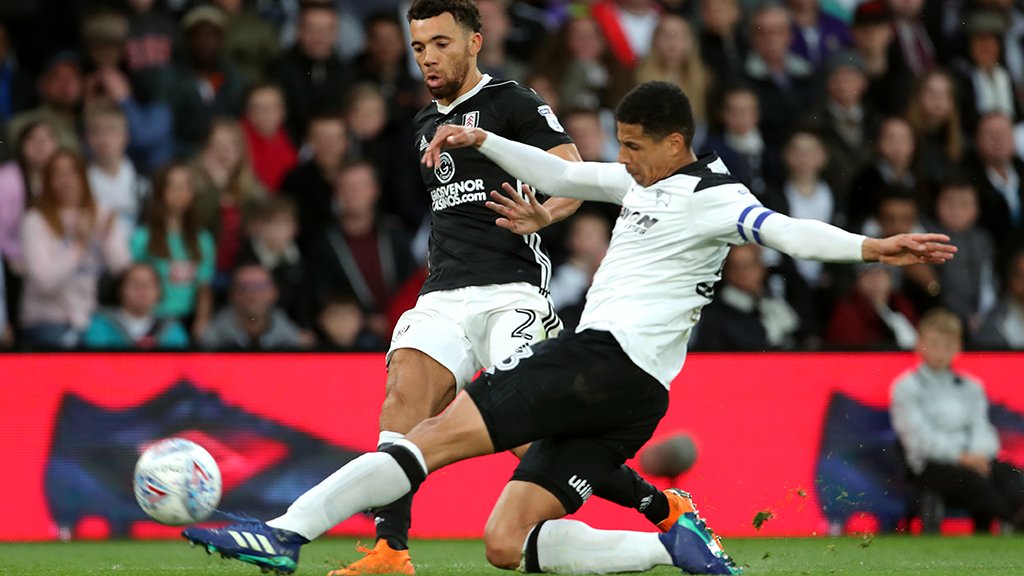 Lawrence made a fine cross for Nugent but he couldn't reach what would have been a sitter and he
was outjumped at the next Lawrence cross. The Rams were clearly tiring but they still fought hard
and they were helped by some loose passing from Fulham. A rare Derby break out led to a brief spell
of attacking by the home side. A Cairney shot came close with Carson at full stretch but Mitrovic was
well wide with a header. Derby's final substitution was Hanson for Weimann on 89 minutes. If Derby's
attackers won the first half for them, it was the defence that saved their narrow lead in the second.
Davies played a crucial role in frustrating many Fulham attacks throughout the match and Gary
Rowett's tactics were spot on.
FT Derby 1–0 Fulham
Fingers and everything else crossed for Monday!
Last edited by RRC on Mon 14 May 2018, 10:10 pm; edited 1 time in total