Derby made two enforced changes from the side that started against Reading
with Tomori and Waghorn replacing the injured Davies and Nugent.
Carson
Wisdom Keogh Tomori Lowe
Mount Ledley Bryson
Wilson Waghorn Lawrence
subs—
Roos, Pearce, Forsyth, Josefzoon, Johnson, Bennett, Marriott
Leeds were able to name the team that beat Stoke at Elland Road.
Leeds attacked from the start but Derby, looking far more lively than last week, responded immediately
to make a half chance. The attacks by both sides were fast and direct; and the constant pressure meant
that the defending at both ends was frantic. The first goal came when Derby lost the ball on their left.
Leeds attacked through right wing Hernandez, who found Kilch, and Kilch's fine long shot gave them the
lead on 5 minutes.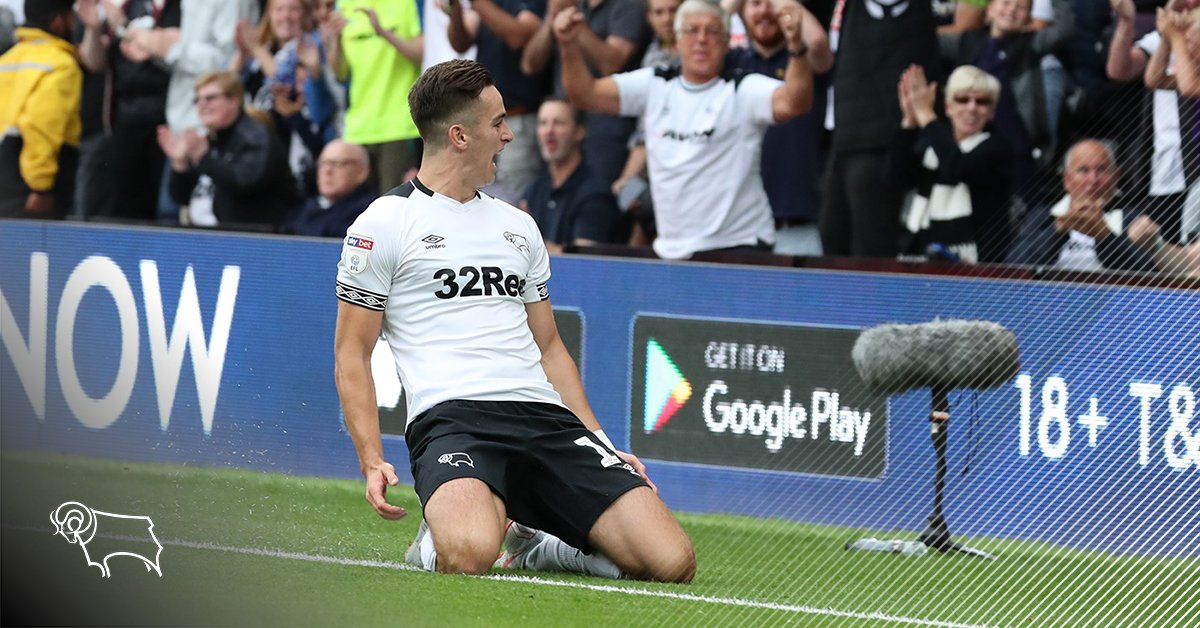 Leeds paid for a foul close to their penalty area when Lawrence equalized with an excellent free kick to
the top corner on 12 minutes. The high tempo attacks continued and a fine cross by Alioski allowed Roofe
to rise above the Derby defence and plant a good header in the net for Leeds' second goal on 21 minutes.
Derby worked hard to counter, and their passing, movement and control were a big improvement on the
Reading game. But they were not quite as quick and accurate as Leeds, who were thus able to create
better chances and a few more of them. The Rams had 6 shots (1 on target) to Leeds' 9 (3 on target).
Ledley and Keogh received yellow cards for clumsy fouls; Leeds got no cards – even their deliberate fouls
were smarter than Derby's.
HT Derby 1–2 Leeds
Johnson replaced Ledley at the start of the second half. Derby were briefly penned in the own half, unable
to pass out of defence, but a long kick gave Mount the chance advance and cross for Wilson, who couldn't
quite reach the ball to shoot with Leeds' defence well beaten. Leeds' frequent attacks down their right,
mainly through Hernandez, regularly stretched the Derby defence. Lawrence battled well for a ball on the
right of Leeds' area but Bryson couldn't convert Lawrence's great cross.
The attacks by both teams continued at a breathless pace. Carson made a superb reaction save at close
quarters but he had no chance on the hour mark, when Roofe beat Keogh in the box and scored Leeds'
third goal. Josefzoon replaced Wilson on 61 minutes. Three minutes later, another Leeds' break, started by
a long free kick from their own half, saw Hernandez chase the ball to the goal  line and pull it back for
Alioski to score Leeds' fourth goal. Bennett came on for Mason Mount in the 75th minute. Derby never
gave up but they didn't come close to scoring again.
FT Derby 1–4 Leeds
This was an improved performance by Derby, but it depended too much on solo efforts, notably by
Lawrence, Mount and Bryson, rather than the disciplined teamwork that we saw from Leeds. The Rams
lost because Leeds were simply the better team. Leeds were more organized, passed more accurately and
were more clinical in front of goal. Their midfield four had an edge over Derby's three. Derby have a lot of
work to do, but there are promising signs, and they won't meet many teams as good as Leeds this season.