Derby fielded a very different starting XI (eight changes from Saturday)--
Roos
Wisdom Keogh Tomori Malone
Huddlestone Mount
Josefzoon Marriott Johnson
Waghorn
subs--
Carson Forsyth Lowe (71) Bird (79) Holmes (71) Bennett Nugent
There wasn't much atmosphere in Hull's near empty stadium. Referee Langford was busy with his whistle
early on and Wisdom got a booking on seven minutes. After ten minutes the Rams were camped in Hull's
half and starting to look dangerous. Marriott took the first shot of the match, a tame effort that was easily
saved and Huddlestone forced a corner with the next shot. Derby built pressure on the Hull defence and
won several corners but they couldn't take advantage of them, though a header by Johnson was saved.
Johnson delivered a great pass over the top to Waghorn, who had made an intelligent run. Waghorn
controlled the ball with one touch and lofted it over the keeper to give Derby the lead on 24 minutes.
There was more variety in the Rams passing with Huddlestone, Johnson and Keogh using long balls
to create chances. Marriott had an opening from one of these but he couldn't quite reach the ball.x
Josefzoon made a very quick solo run, beat his man, and made no mistake with his shot to double the
lead on 39 minutes. Derby were dominating the game, so Hull had little possession and couldn't make
many attacks. The Rams defence were mostly able to stop them easily. Marriott made a quick run into
the box and really should have scored. Hull had a late flurry and Roos had to make a save. This was a
good first half for the Rams against a very weak team.
HT Hull 0-2 Derby
Hull made more forays forward in the second half without threatening too often. Derby's attacks were
quicker and stretched the Hull defence, but they did occasionally leave themselves open by pushing up.
Mount's clever pass set Waghorn and Marriott off on a fast run but it broke down through Marriott's
poor control. Mount then made a chance for himself but he scuffed his shot wide. Marriott showed some
fine individual skill in beating two men, but his shot was just wide. From the hour mark Derby were
dominating again and Hull's counter-attacks often broke down through poor passes. Hull's best chance
fell to Dicko, who should have scored. Marriott continued to work very hard but he missed with a couple
more chances. Duane Holmes, on debut, and Lowe and replaced Marriott and Malone on 71 minutes.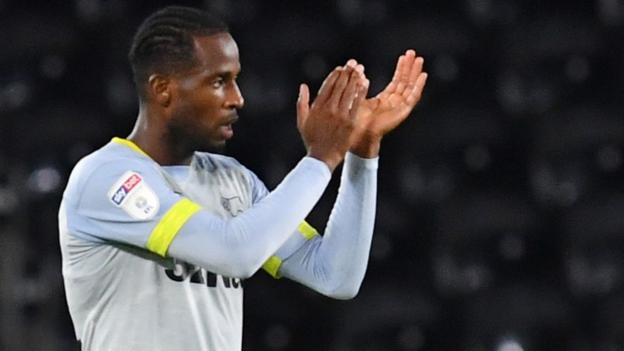 Josefzoon harried a defender and the ball fell to Holmes, who made a great pass that allowed Josefsoon
to score his second and Derby's third goal on 73 minutes. Holmes nearly made it four when his flick from
a Waghorn cross was just wide, and Josefzoon also missed with a shot but his effort was high and wide.
Bird came on for Johnson on 79 minutes. Hull rallied in the last few minutes as they had in the first half
but they simply couldn't finish their moves. Waghorn had another chance but he had strayed offside. On
89 minutes, Mount made great solo run, took the ball round the keeper, and slotted the fourth goal home.
The gulf in class between Derby and this Hull side was enormous and the match was very one-sided. The
four goals and the clean sheet were well-deserved.
FT Hull 0-4 Derby
Last edited by RRC on Wed 29 Aug 2018, 10:20 am; edited 1 time in total